07.30.10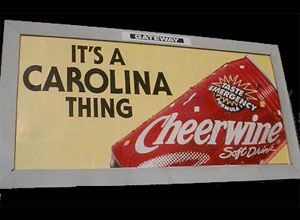 When a sugar shortage at the start of World War I made it difficult for L.D. Peeler to sweeten his Salisbury, NC-based bottling company's popular Mint Cola, Peeler began looking for a less sweet, but equally tasty, alternative. The local businessman purchased a wild cherry flavor from a St. Louis salesman and developed the formula for Cheerwine in the basement of his grocery store in 1917. Cheerwine was an instant success and was outselling Mint Cola by the early 1920s. Shortly thereafter, Peeler changed the name of his business to the Cheerwine Bottling Co. The red-colored Carolina staple was distributed locally until 1981, when it expanded into Tennessee, Georgia, and Virginia. While Cheerwine's reach continues to grow, it remains most popular in the Carolinas and parts of Virginia. This year, Cheerwine partnered with a fellow Tar Heel State company, Krispy Kreme, to offer Cheerwine-infused doughnuts in stores throughout the Carolinas.
From Mental Floss: The Stories Behind 11 Regional Soft Drinks. (Vernors Ginger Ale is also mentioned.)
And in case you were wondering, yes there is an app for that.